I have a major tendency to over complicate things.
The Sanguine in me wants to do things with fireworks and flare. The reality I live…well…doesn't always leave time or energy for full on awesomeness. And I'm learning to be okay with that. I'm learning that it's okay to just "try my best". Which is funny because…that's exactly what I'm teaching them every day!
In fact, their mini meltdowns over imperfection are pretty much a mirror of their mommy.
But enough with the Real Homeschool Mommy chatter!
I thought I'd share with you guys how we're doing Calendar these days. Which…btw…is nothing like the mental image of how I want to do it. But it's my best…and it's okay.
I try (operative word being try) to start each morning with Opening Exercises.
Opening Exercises may or may not include the following:
pre-picked YouTube songs on the iPad
Madlibs (which I'd like to replace with Daily Grams…someday)
Memory Verse work
Prayer and Bible reading if Daddy couldn't do devos with us before work
Short Read Aloud
Pledge
Calendar
I had all kinds of ideas for our Calendar. And I even tried a variety of them. But it was too much work to remember printing out charts, keeping track of little pieces, and what not. In the end, my ol' faithful dry erase calendar has turned out to the be the best fit (for now!).
I have Toby check and chart the temps in the little mini square
and
Bristel draws a picture of the weather.
It gives a great visual at the end of the week to discuss weather patterns.
Easy peasy lemon squeezy.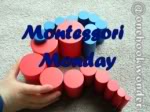 …danielle