Did you know that vocab is worth up to 150 points on the SAT?

The Deets
Vocab Videos uses fun and engaging videos help students master 500 high value SAT words.
Other digital goodies like quizzes, worksheets and a flashcard maker enhance learning experience.
Student accounts are just $24.99 (6months) or $39.99 for a whole year.
Educator accounts (starting at $74.99 for 12 months) offer more tools such as a teacher dashboard, access to all the videos and the ability to monitor students' progress.
Educators can also request a free 1 month trial.
How cool is it that they have a free SAT word list available to download and/or print?
The Review
Even though my kiddos are a little young to be thinking about SAT prep we thoroughly enjoyed our time with Vocab Videos! Okay…okay…so maybe I enjoyed it the most.
I liked that the website itself is very clean and organized. I've mentioned before how much I loathe having to hunt for things. I never felt lost any time I used Vocab Videos.
The videos are super cute. I thought they were very Office-esque. If you're a fan of slap stick comedy (which I am) then chances are you would enjoy learning SAT vocabulary with Vocab Videos.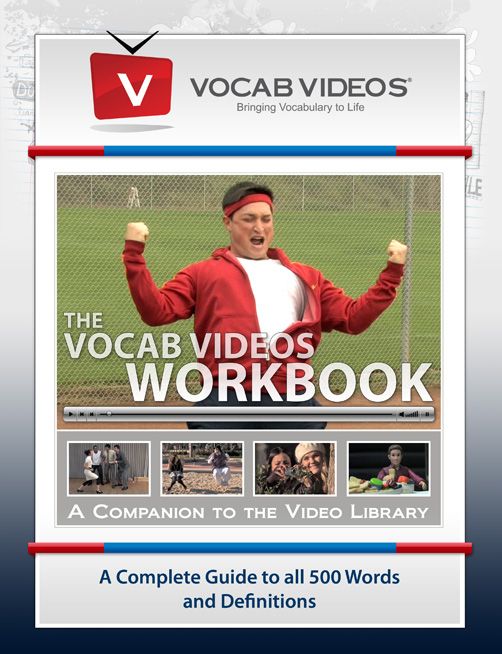 You can also purchase a workbook ($11.99) which goes along with the videos for added reinforcement.
I can totally see us using these videos in the future! What a fun way to learn sometimes boring material. Plus, the price is right!
…danielle
**This is my little space to disclaim that I was given a subscription to Vocab Videos in exchange for my honest review shared on my blog. All opinions expressed are my honest own. I hope that you enjoyed and found my review at least a smidge helpful. Because my voice is just one, I highly encourage you to read what my fellow TOS Crew friends thought about this product.**