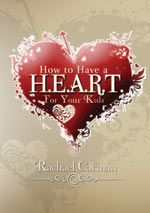 A few posts ago I shared my TOS Backstory. The one where I admitted it's been years since I've read a parenting book. Maybe even looked at one? Not because I've got it all figured out. Come spend a day with me…and you'll see that's not why! But you'll also get a pretty good taste of how busy Trevy is full life is at our place - which leaves little to no time for reading much of anything. This past year though…things have started to shift. Trevy will actually sit for 5 minutes in a row with his iPad.
For my first ever review, I felt drawn to this little book. (Holy Spirit, is that you?!) And let me just pause and say Thank You God it's little! I mean, it's been years, people. He knew I needed to start slow!
I'm SO happy I requested to review it too. It may be a little book…but right from the get-go it's filled with nuggets of beautiful thoughts and inspiration and reminders about what this journey called mommy-hood is really all about. I love Rachel Carmen's style. She's very down-to-earth. Very honest. Very relate-able. All things that are important to me.
I laughed and cried and pondered and heart-connected my way through the pages. You know a book's worth reading when you're thinking about something the author said days after you put put it down. How to Have a H.E.A.R.T for Your Kids is a book that will have you doing just that!
If you're like me and it's been years since you've even thought about possibly maybe trying to sink your teeth into a parenting book…
I would definitely recommend How to Have a H.E.A.R.T for Your Kids! If your heart needs to connect with another mom and be refreshed…this is the book for you. $13.00 plus S&H purchases a copy of your own. Actually, I'm thinking Christmas gifts? Make sure to visit Apologia Educational Ministries Inc. (See, I've made it easy and linked it right in for you!) where you'll find H.E.A.R.T and other wonderful resources.
And I'm not recommending this product just because I got it for free either! Although I am required by law to let my readers know I did receive this book at no cost to myself with the understanding that I would provide honest and timely feedback. The opinions shared here are mine. Consider yourself disclaimed. Smile.
…danielle