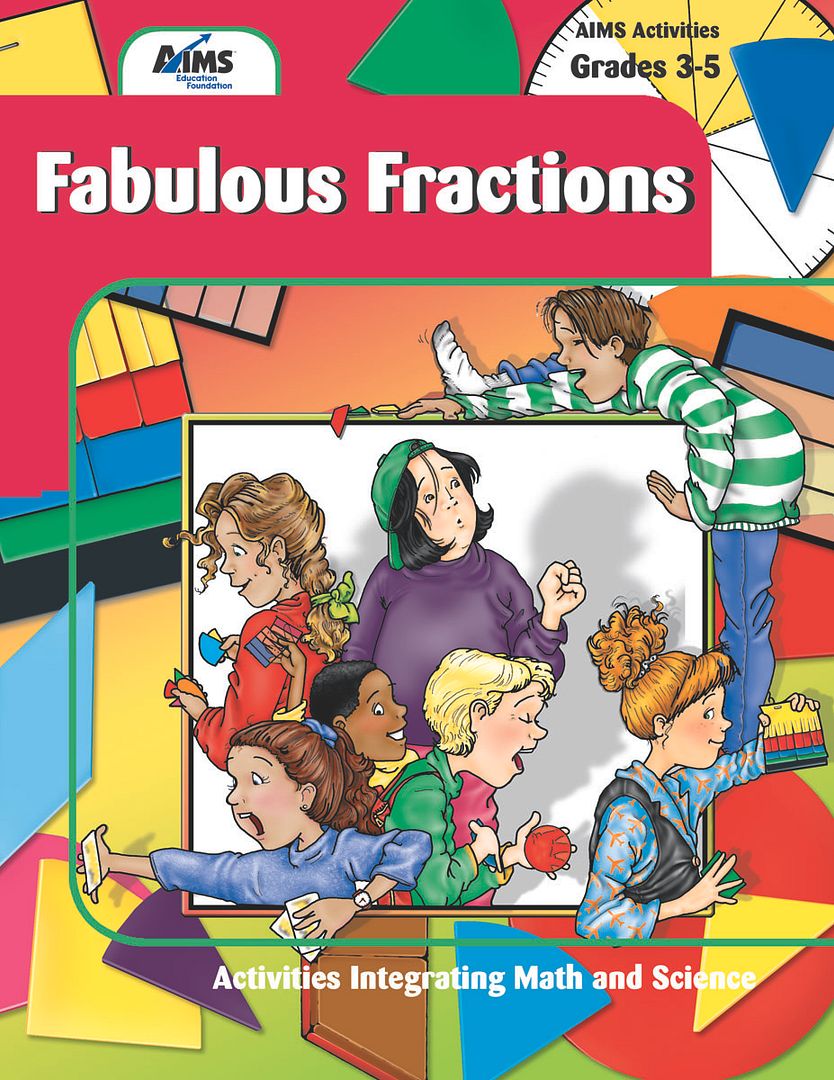 The Deets
Fabulous Fractions is filled with hands on ideas for teaching fractions to kids in grades 3-5. Although, I found the ideas easy to adapt to younger students too.
$21.95 for the print version (I'm an old fashioned hold it in my hands kinda girl) or $19.95 for the PDF version.
Click me for a 15 page preview.
Extra hands-on accessories you can purchase include pattern blocks ($15.95), fractional tranparencies (14.95) and more.
From their website: Each learning experience in this book is designed to help build a concrete basis for thinking about fractions and operations. Many also explore applications to problem solving, geometry, and data display and analysis. Students will benefit as they develop a visual image of the actions that they are taking when working with fractions within an equation.
AIMS offers products in other topics too. Click me to see what else AIMS has to offer.
How we Used Fab Fractions
Even though Fabulous Fractions is geared for older students, I thought the hands on ideas would be a great addition to our morning meetings. Especially, since my 1st Grader is exploring fractions in her Math now!
Many of the ideas required extra prep work. Cutting out circles and what not. I love the idea of cutting out the fraction circles but some days I just didn't have the time for extra prep…so I used the white board instead.
I'm also a fan of my felt fractions set. A friend made them for me a while ago…but they came in handy during this review too.
We even let the preschooler get in on the actions sometimes!
Here he's given all 5 of our stick people hair. 4/5ths of them have nice hair because big brother helped with hand over hand guidance. 1/5 of our people has CRAZY hair (no hand over hand) which made our WHOLE class giggle!
Fabulous Fractions has helped make learning fractions fun for our whole family!
Final Thoughts
So now you're probably wondering if should invest in your own copy of Fabulous Fractions, right?
That's such a very individual question and only you know your student's needs. If you have a child who is highly Kinesthetic – this could be worth it for you. In fact, it would be a great resource to use if you wanted to start a Math group!
I did feel like this book is quite pricey. I have small budget so price is always a big factor in my decision making. We all know you can find so many wonderful resources out on the big wide web for free. In fact, you probably have a Math Pin Board already just like me! But the reason why a book like this could be worth the investment is how well organized it is. I love Pinterest and freebies too…but sometimes I need hands-on-super-organized resources myself! While I find a lot of ideas online…it does save surfing time to have a book to turn to that's already filled with great hands on ideas. My 5th Grader grasps the abstract concepts of Mathematics easily…but I have two littles coming up who are more touch & feel (like their mommy). I would probably purchase a book like Fabulous Fractions to add to my teacher resources.
…danielle
**Disclaimer: As a member of the TOS Crew, I received this product in exchange for my honest and timely review. All opinions expressed here are my very own. Click here to see what other TOS reviewers thought of this product.**