We're enjoying unusually warm weather lately. Typically by this time of year, I'm complaining that we live in the arctic.
The thing with warm-ish weather is that it tend to make it hard for the kiddos to concentrate on academics. Mommy too.
So today we started with a fun crafty project (thanks to Amy over at Are We There Yet?) instead of the run of the mill Math First rule.
I was going to have Trevy help color…
…but since I procrastinated time got away from me and I need it done today I opted to just let the big kids at it.
Random but Cute: Bristel made that little wreath on the table out of garland scraps she salvaged before daddy could toss em'.
I'll cut the pieces out to be laminated while they work on their CORE subjects.
I haven't decided yet if I'm going to use the pieces on a flannel graph background or with magnetic tape on the whiteboard or even painter's tape (because I happen to have some handy and it's awesome and doesn't damage walls or other surfaces that I'm prone to sticking things on and that totally makes the Hubster happy).
But any way we do it…I know it'll be fun! Hands on Projects are the best.
Click here for directions on how to print your own Advent Calendar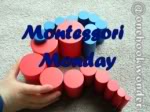 …danielle